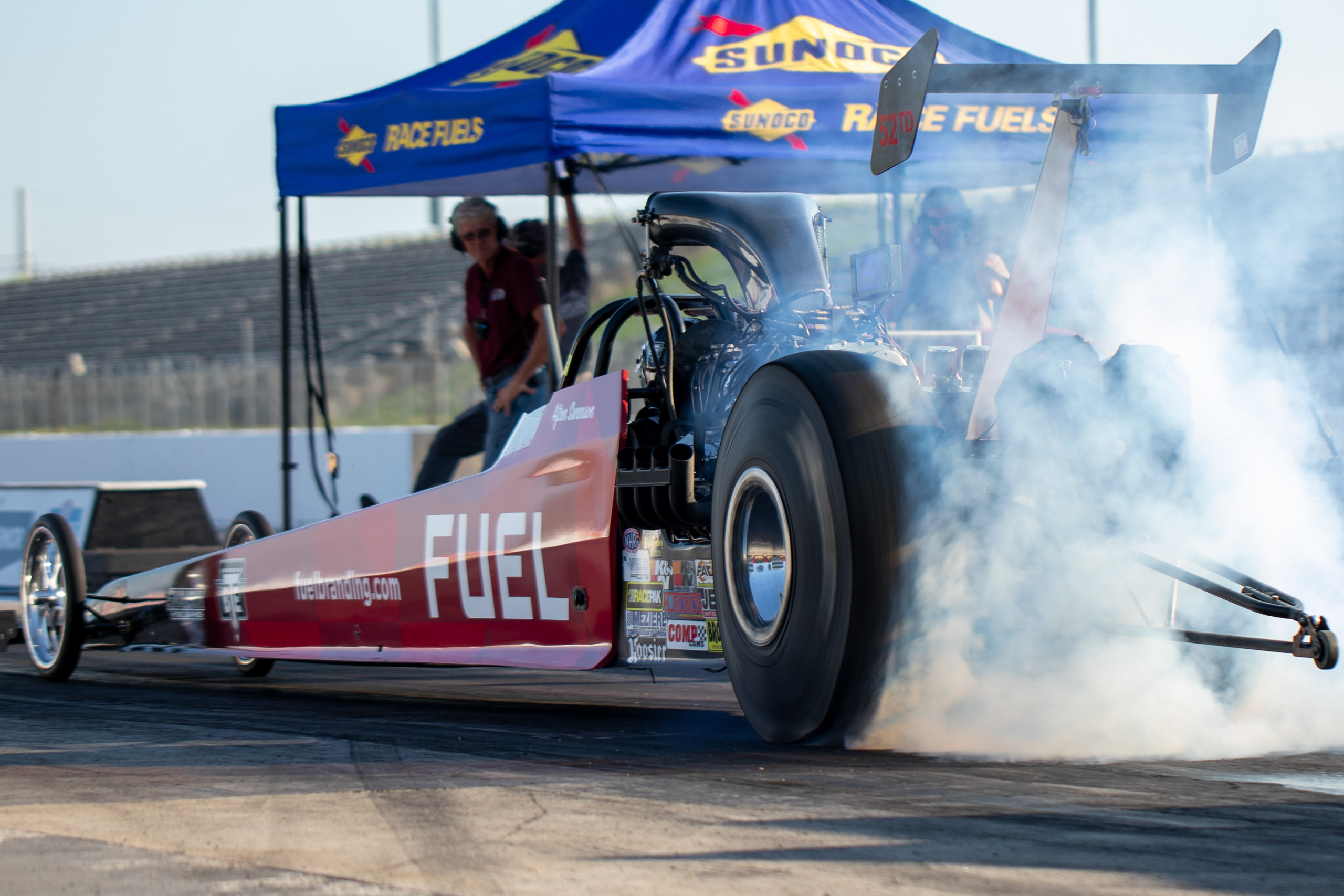 FUEL Sponsors Swanson Motorsports
FUEL, a design agency from Hiawatha, Iowa, has assumed the role of primary sponsor for driver Afton Swanson and her NHRA Top Dragster race car for the remainder of the 2022 racing season.
FUEL joins longtime sponsor and collaborator BTE Transmissions who will continue in their supporting role, as well as Swanson Hydro Graphics and associate sponsor XS Power Batteries.
Afton, who co-owns the race car with husband and Crew Chief Joe Swanson, is currently ranked 8th in NHRA Division 5 Point Standings. Afton has been the #1 qualifier in her first three outings of the 2022 season, along with taking the win at Eddyville's recent Night of Fire event.
A sponsorship of this magnitude is a first for FUEL. No stranger to fast cars himself, agency owner and co-founder John Moes grew up during the height of the Cedar Rapids street racing scene in the '70s, before racing competitively in NHRA events around the Midwest for nearly 20 years. The connection with the Swansons was immediate.
"We've wanted to be involved with the Motorsports category for a long time, but also needed the right opportunity to make our entrance," said Moes. "We've been following Afton and Joe for some time and were quite impressed with who they are as people, and the success they're building together on the drag strip. When we heard they were looking for a sponsor, we just had to offer our support."
Moes added: "We already serve a number of clients in agriculture, construction and forestry equipment, trucking, aviation, offshore boat racing and distilling. To that end, a Swanson-FUEL relationship makes perfect sense."
"Going into 2022, we were unsure how this season would pan out and didn't know how much racing we would be doing," said Afton. "It is tough out there right now with rising costs and long lead times to get parts. But having FUEL step in has really turned our season around and given us a new outlook on this season and next year."
Swanson Motorsports will debut the "FUEL" livery this week at the Lucas Oil Double Divisional Race at Heartland Motorsports Park in Topeka, Kansas held July 28-31.
About FUEL:
FUEL is a design agency specializing in brand development. We leverage the power of design to give companies and organizations in the Midwest a competitive advantage. Our core offerings include Brand Strategy, Brand Identity and Brand Implementation. Contact John Moes at jemoes@fuelbranding.com or (319) 393-7739.
About Afton Swanson and Swanson Motorsports:
Afton and Joe Swanson are a husband and wife team from Denver, Iowa. Afton (30) and Joe (32) are first generation racers forging their own path in the world of drag racing. Although they are one of the youngest teams competing on the NHRA racing circuit, they have already made a name for themselves in the Top Dragster class.
In addition to drag racing, Afton and Joe are the founders of Swanson Hydro Graphics and Swanson Motorsports, both companies located in Denver, Iowa. Afton holds a Master of Business Administration (MBA) degree from the University of Iowa. Contact us at afton5226@gmail.com, (515) 890-9111, https://www.swansonhydrographics.com or https://www.facebook.com/SwansonMotorsports.